Artful Medicine: Where Art, Medicine, and Education Meet
The second annual conference of the Center for Bioethics and Medical Humanities and the Master of Arts in Medical Humanities & Bioethics Program of Northwestern Medicine Feinberg School of Medicine
THURSDAY, MAY 10, 2018 / CHICAGO, ILLINOIS
Event Details
The Center for Bioethics and Medical Humanities is delighted to announce that we will again host a full-day conference dedicated to sharing research and scholarship in bioethics and medical humanities across the Northwestern community. This year's theme was chosen to highlight artistic explorations of health and medicine, and to examine how the arts inform medical practice and medical education. Our theme is inspired by the opportunity to pair this year's conference with the international Hippocrates Symposium for Poetry and Medicine, which we are co-sponsoring this year on Friday, May 11th.
We are thrilled to announce that Dr. Joel T. Katz, Associate Professor at Harvard Medical School, will deliver the plenary address. Dr. Katz uses visual arts as a catalyst for teaching broad areas of medicine, including physical examination, professionalism, humanism, communication, and team work. The conference will also feature some of the diverse work of the alumni of our Master of Arts program.
Call for Abstracts
We invite all those with ties to Northwestern University and its affiliated medical centers who are working on projects in bioethics and/or medical humanities, to submit an abstract. This includes teaching faculty, health-care providers, fellows, alumni of the MH&B graduate program, NU graduate students, and Feinberg medical students. We especially encourage proposals related to the conference theme of "Artful Medicine," but welcome proposals related to any topic within bioethics or medical humanities.
Abstracts can be submitted online. The deadline is Thursday, March 1.
Registration
Registration is now open, and is free of charge.
→ REGISTER NOW ←
Related Event: 9th Annual Hippocrates Symposium on Poetry and Medicine
We are co-sponsoring this year's Hippocrates Symposium on Poetry and Medicine, an international conference featuring poetry readings, presentations that explore the intersection of poetry and medicine, and the awarding of the 2018 Hippocrates Prize for Poetry and Medicine. Further details are available here.
For More Information
Please contact: Myria Knox, p-knox@northwestern.edu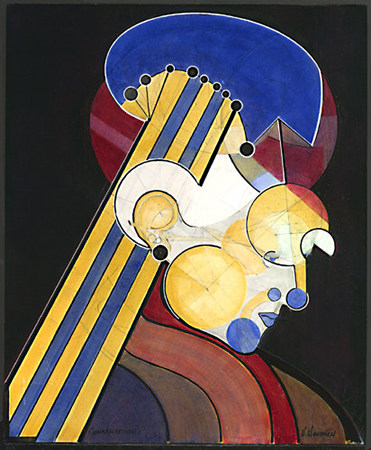 Artwork: "Constellation" by Howard Newman, Acrylic on paper and Masonite, 2002 (Creative Commons)